So I had this paper due. Well, let's be honest: overdue. For the third time overdue. Hence, this time it really HAD to get done. Since I spent the weekend in Freiburg on Family business (with no work getting done), it was down to Monday and Tuesday, and I was scared. More precisely: panicked.
But the miracle happened, I spent two complete, long days in happy-writing-work-flow land, and I loved it there. Also, I want to go back. Several things contributed to this experience, and I am not sure which one did the trick, so I will just list all of them, in no priority and with no guarantee of success.
The Library /Laptop Set up:
Great Library in Munich (ok, you guys, I know that doesn't help those of you who are not around, but hey: come on over!), non-circulating, but great collection, and cool spaces to work even thought the AC bailed on them. I bring lots of water, and my lovely macbook Air, my bluetooth magic mouse and spare batteries (it is very, very annoying to edit a paper with only the trackpad.) As mentioned in other posts, I use the writing program Scrivener. If you don't use it, you don't know what you are missing. I seriously think it has increased my productivity, improved my thinking AND writing, and it also looks good — and it's not expensive, either. I used to think writing=reading+thinking+typing, but there's more to it, even if you don't know it yet.
Food/Drinks:
I eat whatever I feel like, but like to start the working day with Savory Oatmeal. Tastes delicious, and keeps me full without being heavy. Lunch: I can only say, if I eat pasta for lunch, I'll pass out at 3pm. Guaranteed. I always have a tired phase around 3pm/3.30pm, but with Carbs for Lunch I can make my bed right on my keyboard. So think Salad, Soups, Veggies. Then definitely Smoothies and fruit will help. Sugar cravings of course happen, but rarely, and usually not for the better…. but most importantly: Green Matcha Tea. I discovered this in Japan 5 years ago, and it tastes delicious. It is expensive, but amazing, and super healthy, as well. It is the ground green tea leaves without stems etc, which have grown in the shadow, and have been early plucked. This basically means, that the tea powder is not bitter, contains caffeine, but also vitamins, and you can drink it as tea, or latte. I drank the last days green tea latte in the morning, and iced green matcha during the day. The ups and downs I get with coffee drinks are gone, and I don't fall asleep as much. I put the iced tea in my Klean Kanteen Isolated cup, which works well in keeping it ice cold all day… also since it's stainless steel and has a wide mouth opening, it's easy to clean and can go in the dishwasher. In case you don't love doing dishes, like me.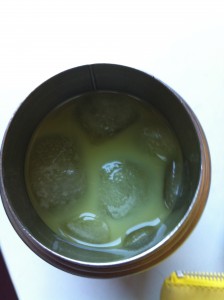 Aroma Therapy:
Yes, now you'll think I've gone crazy. But trust me, just try it. I used two different things, for two different purposes. The first thing I bought (it's expensive) was the Aveda Stress Fix concentrate. You roll it on your wrists or so (they say not on your face, but I did that, as well), breath in, and it actually does calm you down. At least it worked with me. When the panic came back, I smelled the lavender/sage whateveritis, and I felt better — whyever or due to placebo effect I don't know, and don't care, as long as it works. The other thing is the Origins Peace of Mind Lotion — it's a bit less expensive, but also less efficient, I find. Aveda has something similar with the Blue Oil Concentrate, but that didn't smell as good, and weak, I found. Also what's nice about the origins thing is that it is less greasy — that one can be massaged directly on your temples or back of the neck, and I don't like the oily stuff in my face.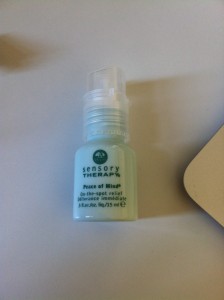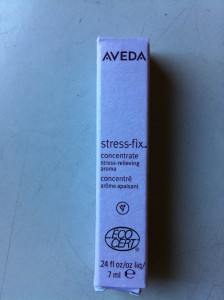 and for the actual workflow, also regarding the iPad and Goodreader/Evernote/Dropbox: see this blogpost — I just made some additions to it!