Our collaborative research Radical Pedagogies has been awarded a Special Mention for contributing to the section Monditalia at the 14th International Architecture Exhibition of la Biennale di Venezia, directed by Rem Koolhaas!
The Motivation by the Jury of the Biennale Awards:
For the Monditalia section
A Special mention goes to Radical Pedagogies: ACTION-REACTION-INTERACTION
The project illustrates how Italian Architectural thinking was disseminated and impacted in different parts of the world. It highlights the emergence of new poles of architectural thinking in the current world and makes these accessible as a living archive. The research project is part of an ongoing global project that shows that knowledge is produced and develops in a networked way beyond national borders and national identities.
…………………………………………………………………………………………..
Check out our website, for all the case studies by our amazing collaborators. More soon!
www.radical-pedagogies.com
Radical Pedagogies on the Princeton School of Architecture Website
Complete List of Awards on the Biennale Website
The Award Ceremony on the Biennale Youtube Channel
Interview with the Radical Pedagogies Team: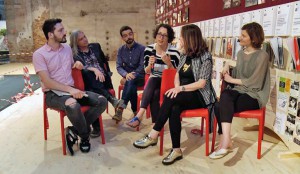 …………………………………………………………………………………………..
Curation of Radical Pedagogies at the Biennale:
Beatriz Colomina, Britt Eversole, Ignacio G. Galán, Evangelos Kotsioris, Anna-Maria Meister, Federica Vannucchi.
Supporters:
Princeton University School of Architecture, Princeton University Council of the Humanities, Princeton University Department of Art and Archeology, Princeton Program in Latin American Studies, Princeton Institute for International and Regional Studies, Princeton University Program in Media and Modernity, Princeton University Interdisciplinary Doctoral Program in the Humanities, Xlam Dolomiti and Elise Jaffe + Jeffrey Brown.