My father had bought a Swiss espresso machine back in the eighties, when hipsters had no clue what a lever machine is or how important the grinding and tampering is for crema (or, for that matter, what crema is). He paid something like 800,- DM for it, which was quite outrageous, but just as he started buying apple computers earlier than anyone I know (which us kids hated since there were no games available back then), he did proper research, and then bought the best of the best. So he aquired the Olympia Cremina, a hand lever machine built from copper, brass, stainless steel and chrome, handle made from ebony, so no plastic found anywhere (except some rubber in the gaskets). Apparently the machine has no life span constraints, meaning it can make espresso forever and ever.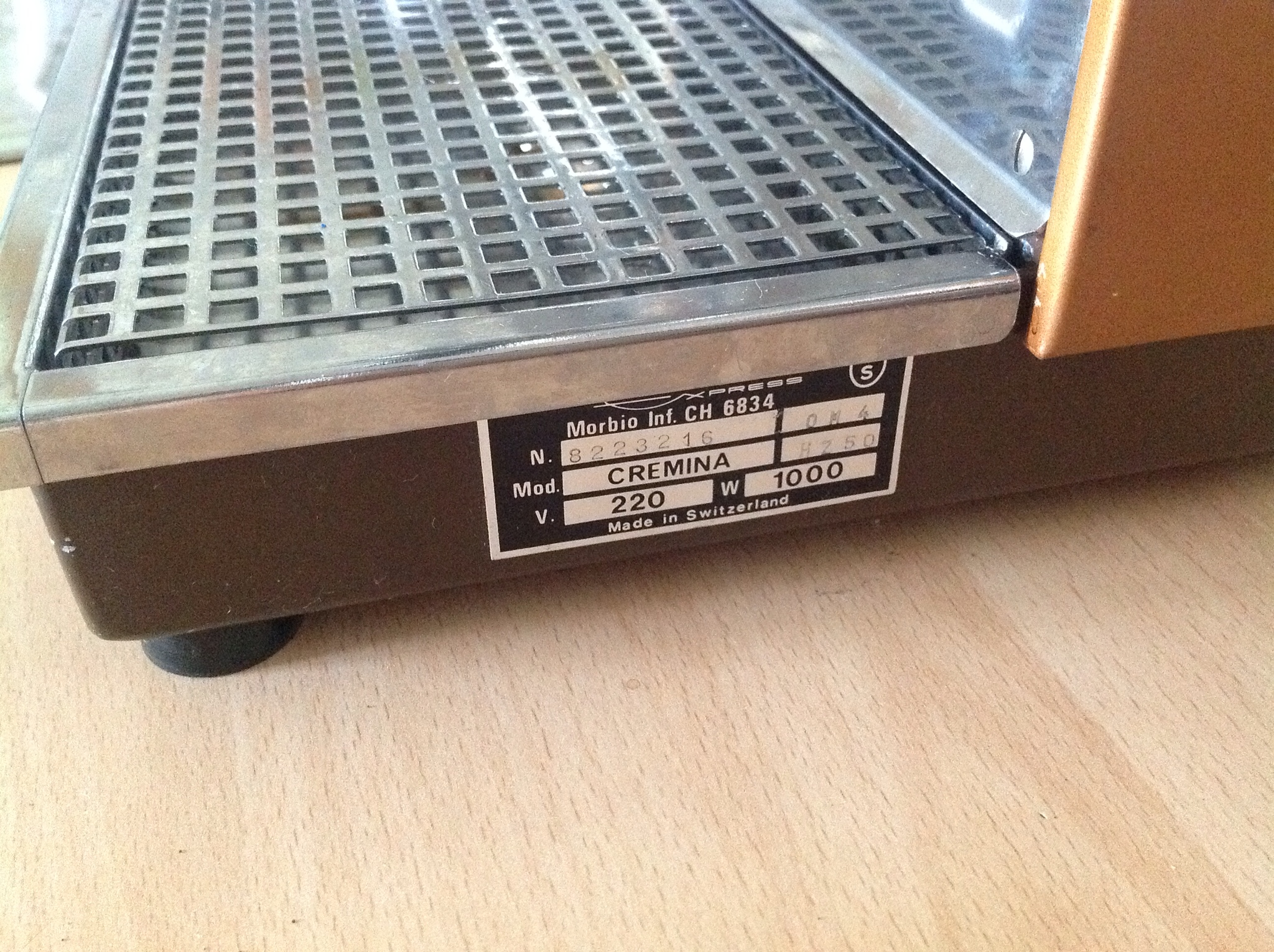 Let me rephrase that: YOU can make espresso for ever and ever. A machine like the Cremina has no pump, meaning it's all muscle work. And brain work, for that matter. If you, like me, love to watch the baristas at the Italian highway rest stops, pujlling the perfect espresso looks fast, easy, and natural. I can tell you: it's none of the above. You need knowledge, sensitivity, patience and good coffee. Oh, and time, lots of it. Which, regarding coffee, sometimes is a problem (hello, Monday morning!). This is why my mother decided she is not using the machine at all, so I took on custody for it.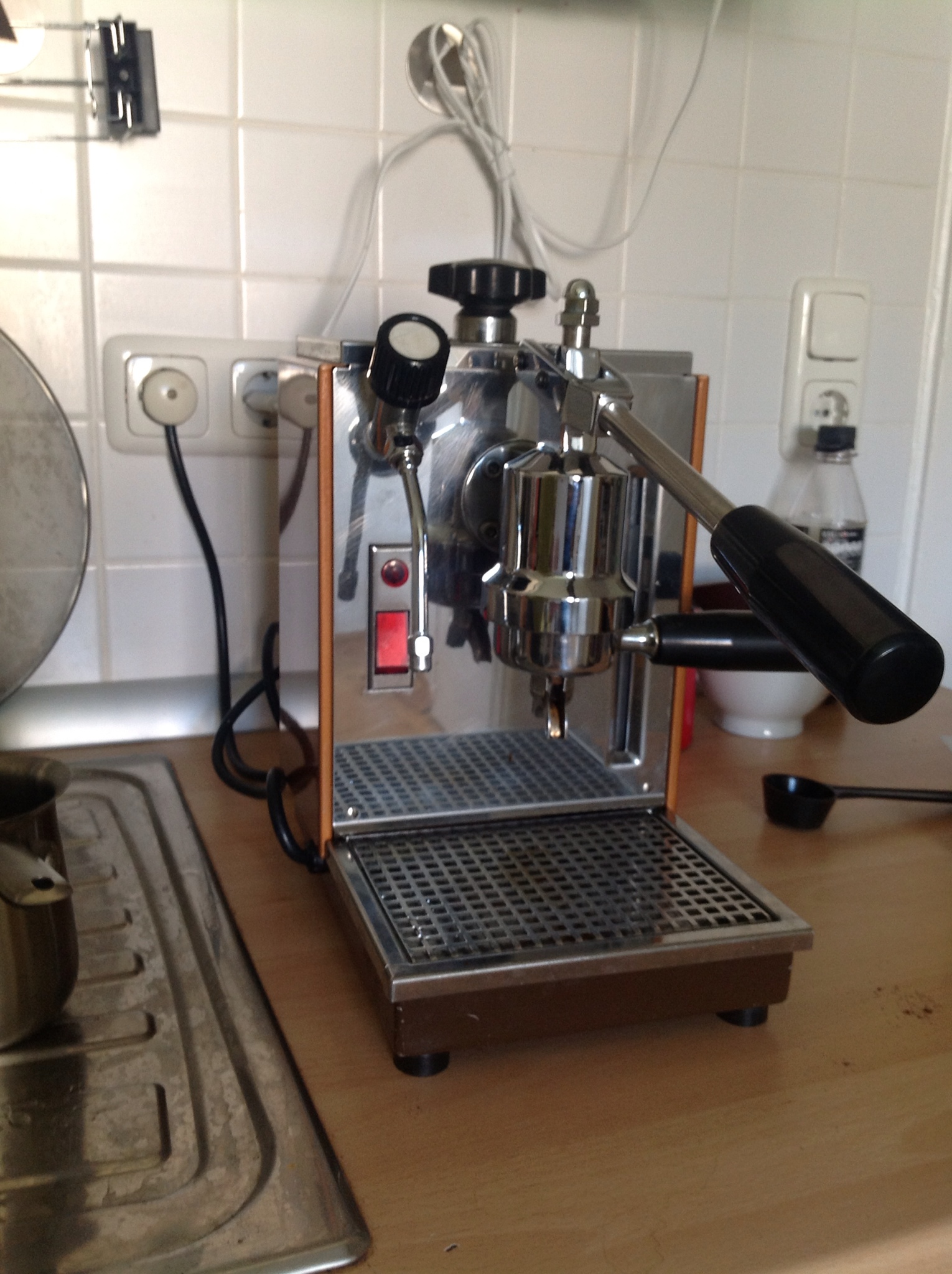 It is heavy, sturdy and beautifully made, yet had several layers of dust on it, when I got it, so I scrubbed it for a good hour. The result was blinding!!! Shiny sparkly chrome, and the gaskets apparently all still work, since the water only comes out in places it is supposed to.
So I pull my first espresso. The coffee pressed lightly in the portafilter, I screw it in, heat the machine up with the lever pointing down (then I remembered one needs to let some air out through the steamer) and then push the lever slowly up. The brown water spills out already while pushing up. Not a good sign. I continue to push up, and then push down. I remember my father more or less pulling down with all his weight, so I knew that the pushing down was far too easy. I tasted the "espresso" I had made, and it was awful. Sour, bitter, soupy, gross. So I hit the forums. There are plenty of coffee forums out there, in case you were wondering, some dedicated specifically to this machine, and there is one that offers a more than 4 hour you tube video for any thing related Cremina in terms of maintenance or fixing (check www.orphanespresso.com). So after some research, I found out that sour and soupy means not ground finely enough or not tampered densely enough. Hence I try again, grinding the coffee finer, and tampering more. And: it was better! Still far from the Italian thick, sweet shot with dense crema, but taste wise less repulsive than the first run.
So now comes Monday morning: thank god I can take my time (life in grad school, I know). I use the coffee we get pre ground from dallmayr. The espresso is generally very good, but I hear to make good espresso one needs to grind yourself, so I will get on it (yes, there's forums about coffee grinders as well). I try to compensate the maybe too coarse grinding with more tampering, and again, push the lever up slowly (that opens the gasket and let's hot water meet the coffee), but again, there's some coffee already dripping out – not supposed to! Well, you gotta finish what you started, so I I'll down, and I do, magically, get some crema! It's not much, and the espresso is not thick enough by far, but hey, it's a learning curve.
The milk steaming (not really considered to be part of "real" coffee makers by the espresso snobs it seems) works fine with the steamer, but the foam was not as dense as with our old, lame Krups machine. I decided to first pull the espresso and then use the steamer, but not sure if that's correct temperature wise….
But. I got a cappuccino, and I am now all into the coffee fever. If you meet me and my hands are shaking, you know why.
More on the Cremina and all what you need to know (and it is a lot) here:
www.coffeegeek.com
www.olympia-cremina.com
www.orphanespresso.com