So these three great friends of mine and I initiated a kochklub, a cooking club. Originally one of these friends cooked for two of the others since they were leaving to study abroad in London. This was 1999… Upon their return, the cooking was established as a regular thing. The rules (of course there are rules, this is serious stuff) are as following: one person is the host. The host chooses a theme, and composes a menu with at least four courses (later we had to limit the max as well, for health reasons, so now the max is 6 courses), and it should be something she has not cooked yet. The host also invites one guest. The other three bring maybe wine, but are generally not involved in the cooking. The event takes place in the evenings, and takes usually a good 5-6 hours (we are talking a lot of food here, guys…), and is always amazing. AMAZING.
And just as amazing is the fact that we kept this up through several obstacles, such as absences of members (yep, guilty), change of jobs, children and moving away. So this week is my turn. And I will guide you through it, and update the story as we go along. The event scheduling usually takes long and needs lots of telecommunication tools, but finally we set the date for tomorrow, so here we go. Task management: choosing the theme, make a shopping list, shop, cook, eat. (oh, and drink, but that does not need preparation. Phew).
Choosing the topic: this time around fairly easy. My sister, a foodie herself (see her blog www.lagrossemere.wordpress.com) gave me a turkish cook book last year by Gillie Basan, so that has been waiting for its entry far too long already. Selection of courses and recipes is less easy, since I always get carried away (ahem, yeah, the 6 course limit was introduced after I cooked a Russian and an Austrian meal – not so light cuisine – with something like 3 main courses plus several before and after. Let's just say I meant well, but everyone had to be very, very brave). The good thing with Turkish food is, I can cheat on that, since many of the small dishes can just be grouped into one course – check the markings in the cookbook…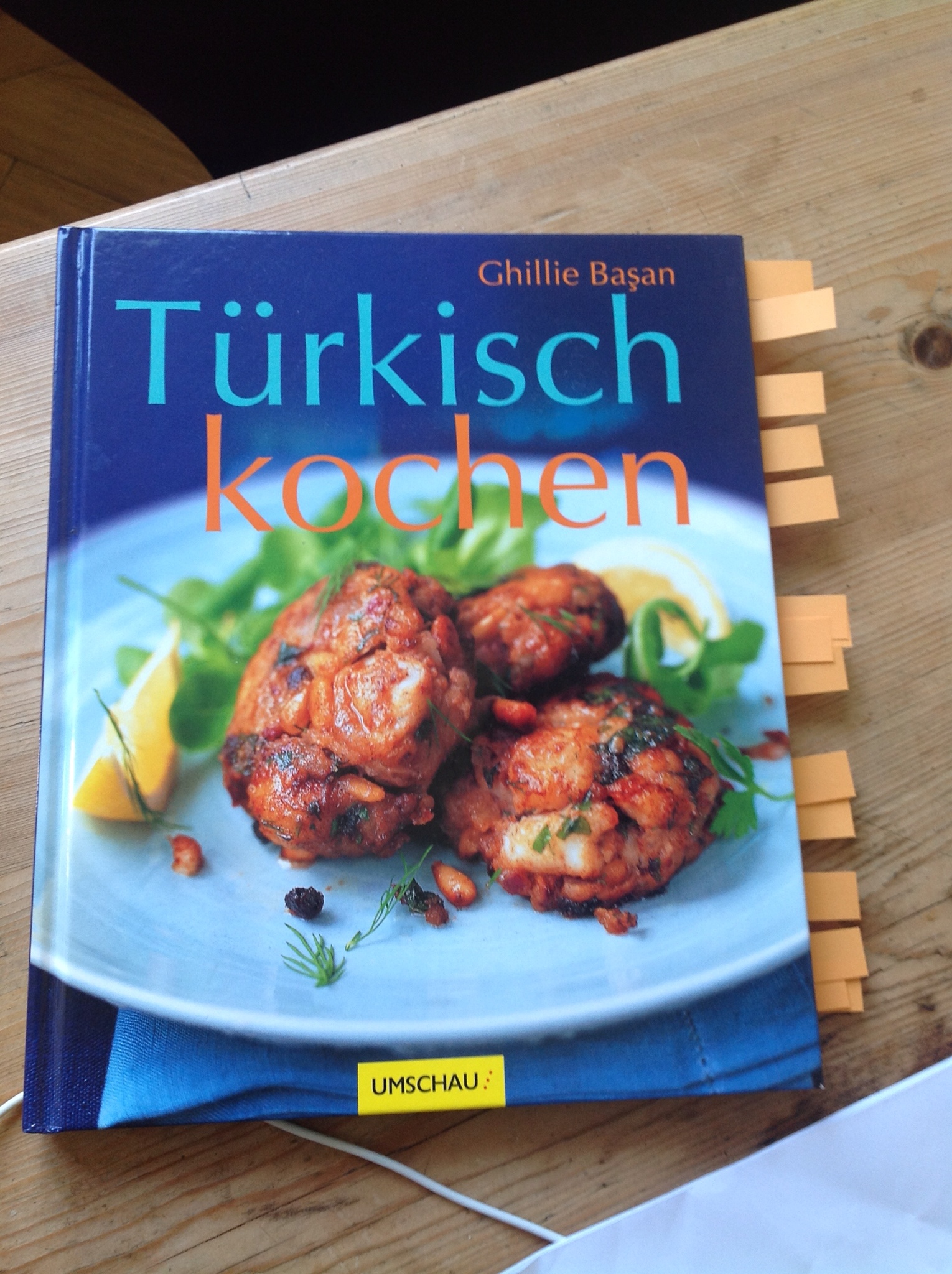 Then I went through the recipes – and, I am not ashamed to say, I did this with my iPad (the picture below was taken in retrospect). I had scanned the pages in the cook book with scanner pro, and then read them in Evernote, where I had sent them to. I also wrote m shopping list on the iPad, namely with notability. The rest of the process will be analog, I promise, but I was on a long train ride and needed to make use of the time. And relax, I did print the shopping list. And didn't bring my iPad to the store.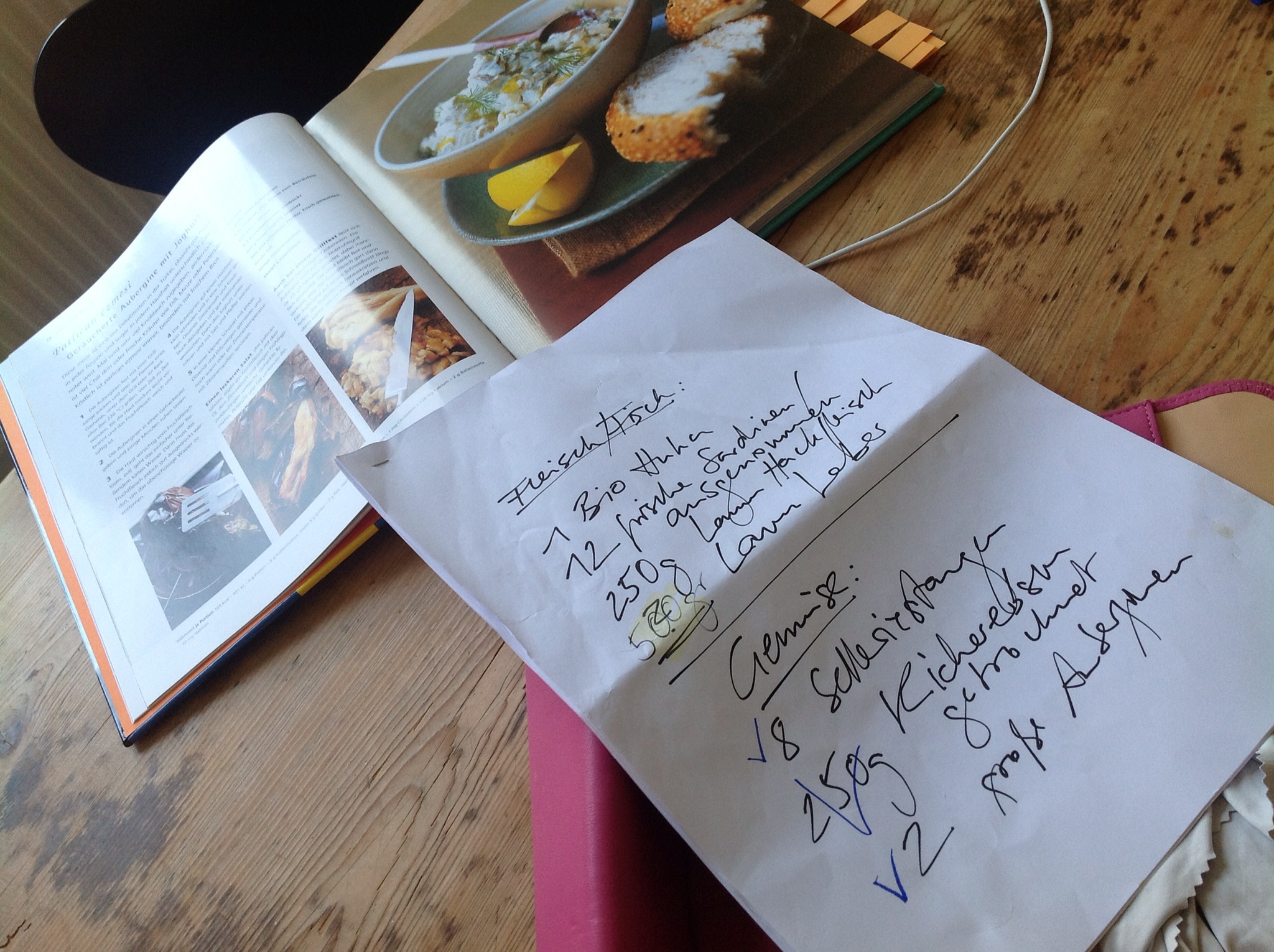 I try to do my shopping the day before, since the day of is dedicated to chopping, cooking, stirring and usually a phase of panic – hence I went to a Turkish supermarket around the corner, where I got almost mall my veggies and dry goods and spices, and a number for the butcher to order my meat for tomorrow.i magically managed to bring the stuff Milne, and this is where I am at right now…(to be continued)